Washington, D.C.--During a U.S. Senate Finance Committee hearing to consider the Internal Revenue Service's (IRS) Fiscal Year 2022 budget, Ranking Member Mike Crapo (R-Idaho) expressed concerns with a recent data leak of personal tax records at the IRS, and reiterated his longstanding concerns with big data collection and new proposals to provide IRS with near universal access to reporting of Americans' financial account information. 
Key Excerpts: 
"We are seeing information today that appears to be fifteen years' worth of leaked confidential individual tax data from the IRS. We don't know the details of what happened here, yet. This information is very relevant to some of the proposals the administration has on the table to expand the IRS' access to data on individuals and companies. These issues are very significant and require a resolution."
Click HERE for video, or the image above. 
"The Administration's budget proposes several new reporting, compliance and enforcement regimes, including a proposal to require near-universal disclosure to the IRS of gross inflows and outflows for both traditional and non-traditional financial accounts for businesses and for individuals, as well as for third-party settlement entities. 
"I have long been critical of big data collection activities, and oppose turning banks and brokers into government tax collectors.  I also have strong concerns about the proposed IRS big data requirements. 
"The key issue for the IRS, and for those of us who oversee it, is to strike the appropriate balance between rigorous enforcement of the tax laws and heavy-handed, stifling intrusiveness. 
"Proposals to increase compliance and enforcement can have merit, but there is risk of turning the IRS, and perhaps even private financial institutions, into feared gatherers of information that is not necessary for tax administration."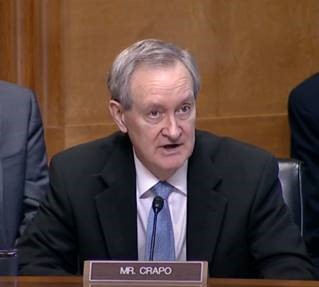 To view Senator Crapo's full remarks, click here or the image above. 
The full text of Senator Crapo's remarks can be found here. 
###