LEWISTON - The Veterans of Foreign Wars (VFW) Post 3913 of Kendrick, Idaho, yesterday presented Idaho Senator Mike Crapo with an award for "Meritorious and Distinguished Service in Furthering the Aims and Ideals of the VFW." 
"I am grateful to VFW Post 3913 for having received this high honor," said Crapo.  "I work closely with Idaho's VFW leaders in Post 3913 and across the state to receive direct input on veterans-related legislation and feedback on local Department of Veterans Affairs (VA) services.  Their first-hand knowledge of the needs of Idaho's veterans helps ensure that veterans receive the care and resources they earned by their selfless service to our nation." 
Senator Crapo has heard directly from Idaho's veterans through years of statewide veterans surveys, hundreds of town halls, in constituent mail and in other various meetings throughout the state, which have directly resulted in the Senator's legislative advocacy on their behalf.  The John S. McCain III, Daniel K. Akaka and Samuel R. Johnson VA Maintaining Internal Systems and Strengthening Integrated Outside Networks (MISSION) Act became law on June 6, 2018, and included provisions first introduced by Senator Crapo as standalone legislation (S. 1279).  The VA MISSION Act included Senator Crapo's proposals to consolidate permanently the previous seven VA community care programs and create a new Veteran Community Care Program to streamline the delivery of local, private health care to veterans when it is in their best medical interest.  The VFW recognized Senator Crapo for first introducing this veteran-centric approach. 
Senator Crapo continues to work directly with Idahoans to advocate on behalf of our nation's veterans.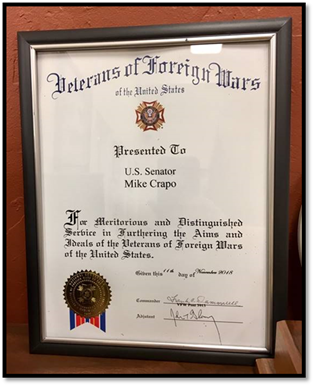 Image of the award presented to Senator Crapo on December 10, 2018. 
# # #