December 30, 2019
Crapo Honors U.S. Marine Captain Anneliese Satz
Presented Congressional Record Statement at Boise ceremony
BOISE -- U.S. Senator Mike Crapo (R-Idaho) honored U.S. Marine Captain Anneliese Satz, a Boise native, with a Congressional Record Statement to mark her accomplishments, which include being the first female F-35B pilot. The statement was awarded to Satz during her holiday visit to Idaho. Full text of the Congressional Record Statement, which was submitted on September 9, 2019 is below:
"I congratulate U.S. Marine Captain Anneliese Satz, of Boise, Idaho, on her many achievements, including being the first woman to fly the F-35 fighter jet for the U.S. Marine Corps. Above all, I thank Captain Satz for her service to our nation.
"In June, Captain Satz became the first female Marine to complete the F-35B Basic Course. Before she joined the Marines, she earned her commercial pilots license flying helicopters. I understand Captain Satz has been assigned to her first operational unit: the "Green Knights" of Marine Fighter Attack Squadron 121 in Iwakuni, Japan.
"My home state of Idaho is full of trailblazers. Among them are the women who are leaders, innovators and architects of a new reality where the "first woman to . . ." is rightfully becoming a descriptor of the past. Captain Satz is a courageous Marine fighter jet pilot. She is also a groundbreaker who worked hard to complete her training and prepare for her service ahead.
"Thank you, Anneliese, for your service to our country and for your hard work and great leadership. Your preparation and diligence are commendable. You are showing young Americans, and adults alike, through your example of dedication and proficiency that high goals are achievable."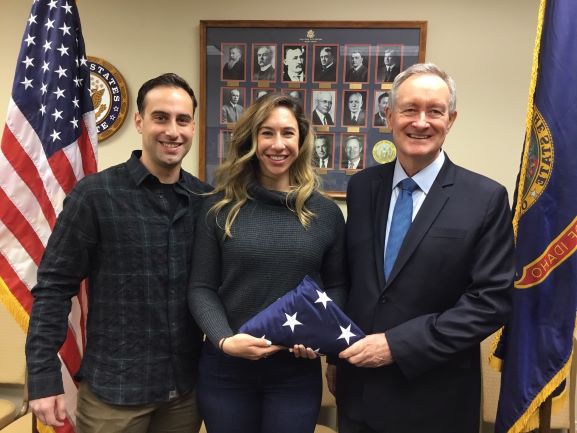 Senator Crapo is pictured here with Capt. Anneliese Satz and her husband, Anthony Pompei.
---
---
Next Article
Previous Article