WASHINGTON – Highlighting how Idaho consolidates services to meet the needs of domestic violence victims, Idaho Senator Mike Crapo today questioned Katharine Sullivan, Principal Director of the U.S. Department of Justice Office of Violence Against Women (OVW) about how the agency can follow Idaho's model and help states and other local agencies across the nation bring under one roof the services and support needed to assist victims of domestic violence.  A member of the Senate Judiciary Committee, Crapo posed his questions today during a hearing examining the reauthorization of the Violence Against Women Act (VAWA).  Crapo has historically served as the lead Republican sponsor of in the Senate of legislation to reauthorize VAWA.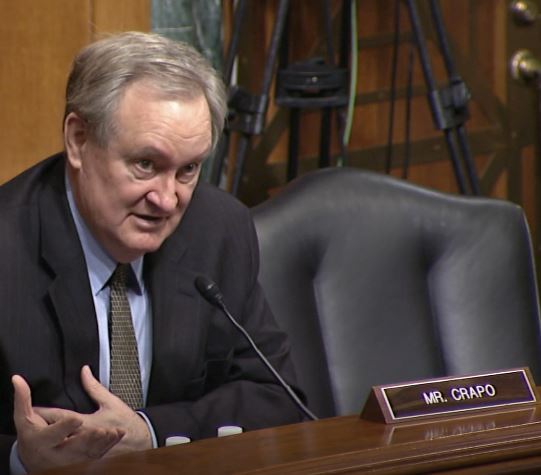 Crapo discusses how to deliver services to domestic violence victims at a Senate Judiciary Committee hearing. Click the image to watch. 
"In my experience with this issue, support needs range all the way from safe homes to assisting with prosecution, rape kits to the training of both police and of counselors and the provision of services across the board," said Crapo. "Bringing those services all together under one roof has provided particularly successful support in Idaho.  Some of those places where we have been able to accomplish that in Idaho have been phenomenally successful, enabling a person or a family who have gone through a traumatic experience like this to go through one door and get all the assistance they need."  Crapo asked Sullivan if this type of successful model in Idaho is happening elsewhere and if her office can assist in developing it nationwide.
Sullivan responded saying Crapo, "hit the nail on the head with very little for me to add."  Sullivan elaborated saying that Idaho's model is the response that works for victims and an "under-one-roof collaborative effort on how to treat survivors is core to the mission of [the Violence Against Women Act] without question."     
"So many of the victims are victims in their own home and they don't feel that there is a way to get out," added Crapo.  "Providing the assurance and the message that they don't have to take it and secondly, that there is somewhere they can go and that place they can go needs to be a place that provides what they need fast." 
Since 1994, the Violence Against Women Act has helped Idaho nonprofits, governmental agencies and tribes provide life-saving services to domestic violence, dating violence, sexual assault and stalking victims and families in our communities.  Crapo served as the lead Republican sponsor, working with Senator Patrick Leahy (D-Vermont), in the successful effort to renew the law in 2013 and increase access to assistance for victims of crime.  The law also intended to reduce the backlog of untested rape kits throughout the country, provide needed assistance to law enforcement in prosecuting sexual assault crimes, assist law enforcement in investigating human trafficking crimes and provide for the consolidation of programs to reduce administrative costs and avoid duplication.  It also provided for the establishment of new accountability measures to help ensure that VAWA funds are used efficiently.  Since then, VAWA has continued to provide resources to help women, children and others affected by abuse.  
Housed within the U.S. Department of Justice, OVW's describes its mission as providing leadership from the federal level in developing the nation's ability to reduce violence against women and administer justice for and strengthen services to victims of sexual assault, domestic violence, dating violence, and stalking.  OVW administers programs under the Violence Against Women Act that provide financial support and technical assistance to communities across the country.  In this capacity, OVW supports communities' efforts to end these crimes and reach underserved victims, enhances education and training, disseminates best practices, launches special initiatives, and leads the nation's efforts to end violence against women. 
The full video of Crapo's exchange with Sullivan can be found here online or by clicking on the image above.
# # #