Idahoans' input is extremely helpful as we work together to ensure federal laws are sound and federal services are accessible and effective.  A great example is the time SMSgt. Jeremy Kitzhaber, U.S. Air Force (Retired), Veterans of Foreign Wars (VFW) Post 63 Legislative Committee Chairman, of Boise, and his wife, Sharette, have taken to discuss veterans-related policy, including ensuring medically retired and combat-injured veterans receive full compensation earned through their service to our nation.  This helped inform my decision to co-lead the introduction of S. 344, the Major Richard Star Act, to provide combat-injured veterans with less than 20 years of military service their full benefits. 
"Because Senator Crapo had previously helped to end pay offsets for military and military widows, I met with his staff to see if he would help again," said SMSgt. Jeremy Kitzhaber.  "Other Idaho veterans also reached out and with all our input, Senator Crapo reviewed the information and quickly decided to co-lead this bipartisan legislation to end pay offsets to medically retired combat veterans.  With this bill, our hope is to end the unfair offsets to this group of veterans who do not deserve what is happening to them." 
Bob Jones, Legislative Chairman for the Department of Idaho Veterans of Foreign Wars and his wife Carmelita, National Legislative Ambassador for the VFW Auxiliary, have also been working with me to ensure passage of the Major Richard Star Act.  Jones said, "As a disabled veteran, I strongly support this bill.  Our heroes have answered their nation's call in its time of need.  Many have returned home with seen and unseen injuries that have changed their lives forever.  They and their families continue to bear the burdens of the personal costs of war.  It is our duty and obligation to see that they are cared for and not forgotten."
The non-partisan Congressional Research Service explains, "Concurrent receipt refers to a veteran's simultaneous receipt of two types of monetary benefits: military retired pay from the Department of Defense (DOD) and disability compensation from the Department of Veterans Affairs (VA).  Prior to 2004, existing laws and regulations stipulated that a military retiree could not receive both payments.  As a result, military retirees with disabilities recognized by the VA would incur a retired pay offset (i.e., dollar-for-dollar reduction) by the amount of their VA compensation."
Congress made changes to federal law to ensure military retirees with a disability rating of 50 percent or higher could receive both military retired pay and disability compensation.  However, for retired veterans with less than 20 years of service, their disability pay is deducted from their retirement pay.
I joined Senate Veterans' Affairs Committee Chairman Jon Tester (D-Montana) and Committee Ranking Member Jerry Moran (R-Kansas) in introducing the Major Richard Star Act to provide combat-wounded veterans with less than 20 years of service, also known as Chapter 61 Veterans, both their disability compensation and retirement.  An estimated 42,000 veterans, including hundreds in Idaho, could benefit from this change, based on the most currently available data from 2018 from the DOD Office of the Actuary.
S. 344, is named in honor of Major Richard A. Star—a father, husband, and decorated war veteran who, as a result of his combat-related injuries, was medically retired.  Major Star passed away on February 13, 2021, after a long fight against cancer. 
A bipartisan group of 46 senators, including fellow Senator Jim Risch (R-Idaho), co-sponsored the legislation.  The legislation has strong backing from 10 leading Veterans Service Organizations.  I remain dedicated to fixing unfair discrepancies, such as this, to honor the service of all veterans and Major Star's legacy.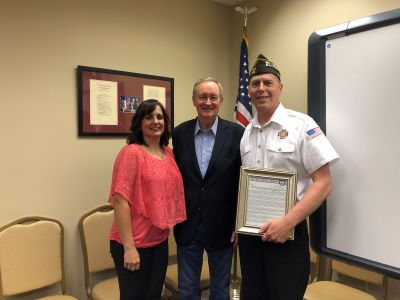 (Senator Crapo meets with Mr. and Mrs. Kitzhaber)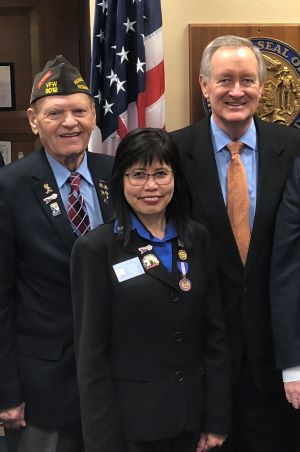 (Senator Crapo meets with Bob and Carmelita Jones)
# # #
Word Count: 600